DrySteps™ : Keep your sneakers clean and dry
Walk with style, no matter the weather with DrySteps™!
For trainer aficionado, every pair is a masterpiece. But unpredictable weather can be the worst enemy of your cherished shoes. DrySteps™ is here to make a difference.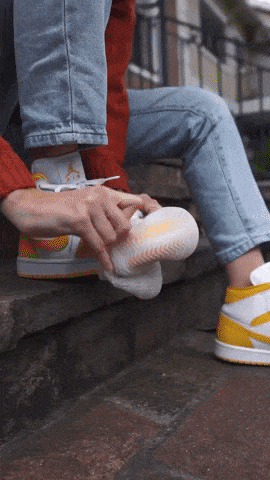 Unmatched Waterproofing : Thanks to our silicone treated with special polymers, your sneakers remain pristine, even under heavy rain. This advanced technology provides an unparalleled waterproof barrier, ensuring that water and mud stay out, while preserving the integrity and style of your shoes.
Slip-Resistant Safety : The structured patterns on our shoe covers increase friction, providing optimal grip on various surfaces for stable and secure walking.
Protecting Your Investment : Every pair of sneakers is an investment. DrySteps™ ensures that this investment is shielded from the elements, allowing you to enjoy your sneakers for longer and keep them in perfect condition.
Absolute Versatility : Whether you're on your way to buy a new pair of sneakers, attending a festival, or just hanging out with friends, DrySteps™ adapts to every situation, ensuring your sneakers remain the center of attention.
Sneaker fans, don't let the weather dictate your style. With DrySteps™, every day is an opportunity to showcase your favorite sneakers. Take advantage of our special offers and walk with confidence and flair!
DrySteps™ : Keep your sneakers clean and dry
Frequently Asked Questions
Simply rinse them with water and let them air dry. DrySteps can also be washed in a washing machine.
Yes, DrySteps™ is available in multiple sizes and can be used from the age of 10 onwards.
Yes, DrySteps™ are designed to suit both men and women, providing a versatile solution to keep all types of shoes dry and safe.
No, the silicone material of DrySteps™ is designed to be breathable while being waterproof, allowing your feet to stay comfortable.
Yes, although DrySteps™ is primarily designed for wet surfaces, it also provides traction on light snow. However, for icy surfaces, we recommend caution.
Delivery usually takes between 12 and 15 business days. You will receive a tracking number once your order has been shipped.
Absolutely! DrySteps™ is designed to fit most sneakers, whether they're low or high-tops. It provides optimal protection while maintaining the style of your favorite shoes.
Verified Reviews for OmniTRX™
James S.
I tested my DrySteps in heavy rain, my sneakers stayed spotless!
Emily J.
Finally, a solution to protect my favorite kicks. Thanks, DrySteps!
Sarah W.
Fast delivery, product as described. My feet are dry, highly recommend.
Jessica T.
I was skeptical, but after trying, I'm sold. Top-notch!
Amanda D.
The anti-slip patterns really work, even on wet ground.
Michael B.
Love the design, discreet and effective. My trainers are protected.
David J.
A must-have for all sneaker enthusiasts like me.
Robert W.
Gifted DrySteps to my brother, he loves them!
John A.
I use them daily. My shoes remain clean and dry.
Lisa R.
Super handy for unexpected rainy days.
Mark L.
Top quality, I'm ordering another pair for my girlfriend.
Megan R.
Used them for a festival, a real game-changer!
Rebecca G.
Easy to put on, easy to take off. Simple and effective.
Paul C.
I no longer fear puddles on my way. Awesome!
Brian T.
A smart investment to protect my expensive kicks.
William M.
Received them as a gift, can't live without them now.
Tom L.
Pleasantly surprised by the quality. Kudos DrySteps!
Mia B.
I wear them even when it's not raining, just to keep my shoes clean.
Alex M.
An innovative product that meets a real need.
Sarah J.
Tested them on a rainy hike. Perfect result.
Jack D.
Recommend to anyone wanting to keep their sneakers pristine.
Hannah F.
Top-notch customer service, they answered all my questions.
Mike Z.
Bought them out of curiosity, no regrets.
Emma H.
A unique and useful gift. My friends keep asking for them.
Anthony V.
No more changing shoes when I get to the office. Time saver!
Eva L.
Wore them at a rainy concert. My feet stayed dry.
William P.
A product that delivers on its promises. Happy with my purchase.
Isabella D.
Gifted them to my dad who's a big sneaker fan. He loves them!
Harry R.
DrySteps have become a daily essential for me.
Ava T.
Tested and approved. Ordering for the whole family.
New : leave us a review on ⭐️Trustpilot⭐️
+9,453 sneakerheads have already chosen DrySteps™
To turn every rainy day into an opportunity to showcase your favorite sneakers. Don't miss the chance to join this community of footwear fanatic who refuse to let the weather compromise their style!